Since it is the champagne year, it is only fitting to include a category that focusses on crémants and sparkling wines.  Crémants are sparkling wines made in France, but not within the region of Champagne.  Most of my favourites hail from the Loire Valley and Bourgogne.  Sparkling wine can come from anywhere.  Many of the big champagne houses are now operating in California and are producing some impressive sparklings.  The sparkling and crémant options are not only economic, but can also be very delicious.  Some of the better ones are hard to distinguish when blindly tested against champagne.
Louis Roederer is one of the biggest Champagne houses around, producing a host of delicious champs including one of the most expensive champagnes of all–Cristal–their prestige cuvée.  I was obviously very excited to come across the Roederer California sparkling but lost my enthusiasm pretty quickly once the bottle was popped.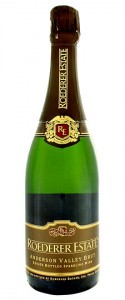 Roederer sparkling comes from grapes grown in the Anderson Valley in Northern California and is a blend of Chardonnay and Pinot Noir.   Sounds great so far, but the high acidity content (I think they were trying hard to achieve "crisp" in their blending notes) is the type of bubbly that renders immediate heart burn, and the knowledge that if you continue drinking it, or even worse, spend the night drinking it exclusively, you will spend the entire next day praying to Jesus, hoping to be saved from a brutal hangover.
The difference could arise from the fact that Roederer Estate is not using the traditional méthode champenoise, but the cheaper, less delicious charmat process.  The charmat process is when the wine undergoes its secondary fermentation process in bulk tanks, not in the bottle as it does during the méthode champenoise.
The bite of this sparkling was sadly too intense to be even considered as a top contender in this very important division.
There are so many fantastic sparkling options at a similar (or even cheaper) price point which are quite delicious, this one simply doesn't make the cut.