Arguably, it is one of the most iconic scenes in movie history. Rocky Balboa downs 6 raw eggs, then the Italian Stallion, wearing a grey hoodie, track pants, black tuque and converse begins running through the streets of Philadelphia.  He effortlessly hurdles park benches and picks up an entourage en route.  He arrives at the Philadelphia Museum of Art, flies up the stairs, reaches the top with a grand leap to start his triumphant victory dance.  The iconic scene closes with a satisfying panoramic view of the Philadelphia skyline.  This scene is not only one of the most memorable of the film and puts the stairs on the map, but more significantly, it  introduced the revolutionary steady cam technology. Rocky's run is captured with smooth, breakthrough footage.  Cinematic history is made!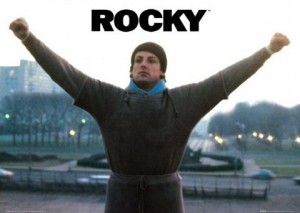 On my list of things to do for the champagne year is to watch 12 classic movies.  I had never seen Rocky from start to finish, but I did know the infamous stair run.
After watching the classic film, I decided that I had to make my way to the city of brotherly love to pay homage to the run, the stairs, the movie and its huge role in pop culture. ADRIENNE!
The original plan was to go in the late fall, wear a tracksuit and a hat. A chance however presented itself  to go in August.  Since opportunity rarely knocks twice and is never a lengthy visitor, I figured why not?
The city is impressive.  It is known for its wonderful collection of out door sculptures and public art, museums, architecture, cuisine and rich history.
The Rocky sculpture which was commissioned for the film series was later donated by Sylvester Stalone to the city of Philadelphia.  After public outcry, they moved it from the top of the stairs (where it was during the movie) to the base of the museum where it remains today.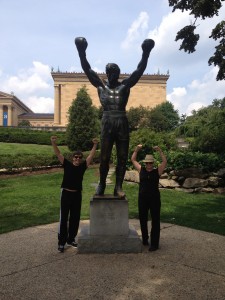 We make our way over to the infamous stairs.  The Germ remains fully committed to doing the run in costume as originally planned.  I on the other hand called it off when we signed on for August.   I am sweating already.

I am pleasantly surprised that I love Philadelphia so much.  We had a ridiculously fun time on our pop culture pilgrimage in a great city that we can't wait to visit again!