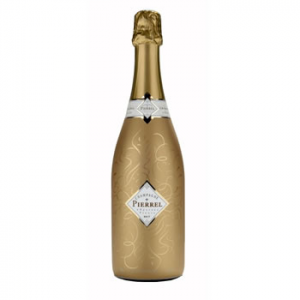 Pierrel Brut Champagne is a gem.  With a gorgeous, non-traditional bottle, this champagne hails from a relatively new house and a young blender.  Pierrel champagne is unexpectedly delicious.
Lets start with the bottle–it is like nothing I have ever seen.  The new design keeps out harmful UV rays, shuns tradition and makes Pierrel a standout.
The champagne is refined with delicate bubbles which allows for its golden, elegant mousse.
There are notes of citrus and floral–but they are not overwhelming, allowing this champ to be enjoyed on its own or beautifully paired with food.  If you love minerality in your champ (as I do), this bottle is for you. There are lovely and complex undertones which surely come from the blend of 50% chardonnay, 40% pinot menuier and 10% pinot noir.  Pierrel should only be described as elegant.
I will continue to keep my eyes peeled for Pierrel Champagne and will look forward to popping more bottles when an occasion presents itself.  There never seems to be a shortage of occasions non?
Champagne Detail #4:   The cage, the collar or the muselet–are three different, all correct names for the wire contraption that holds the cork in place.  This cage (what we call it in our house) ALWAYS has six turns.  I finally have a favourite number!