Without question, one of the most underrated Champagnes around is Paul Laurent.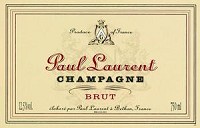 Bottom line, it is delicious. Easily enjoyed on its own, Paul Laurent also pairs very well with most dishes, and costs significantly less than its counterparts.  Value! This wonderful champagne is full of character and refinement.  Paul Laurent is one of the newer champagne houses, hailing from the Gruet family who have also expanded into the sparkling wine business in Albuquerque, New Mexico.
I discovered Paul Laurent years ago when I was making an effort to branch out beyond the few big houses that were always my go-to bottles.  Boozy best friends were over, a bottle was popped and we discovered the magic of Paul Laurent together.  We were oohing and ahhing over the smoothness, the balance, the lovely colour and delicate bubbles.  We were all converted into fans immediately.
Paul Laurent is a blend of pinot noir (80%) and chardonnay (20%) and made in the traditional méthode champenoise.  It always delivers and can be consumed at any and every moment. I adore that it emphasizes the taste of even the most simple dishes and enhances the pleasure of the most elaborate ones.
Don't miss this delicious, refined, delicate AND economic champagne.
Champagne Detail #3–The pressure in a bottle of champagne is 90 pounds per square inch–almost three times more pressure than in a car tire.  If you want to blow the cork, do it outside!