"Comté cheese is a masterpiece of aged milk"– Marie Simmons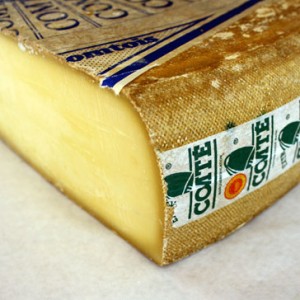 Comté is a semi-hard cheese, made from unpasteurized cow's milk and hails from the eastern region of France in the Franche-Comté region.  Each cheese can use up to 600 litres of whole milk during production and if it is grated before it reaches your home (yes, it does melt beautifully) it cannot be sold under the Comté name.
This cheese has moved up the ranks of favorites to hold a special place in my top cheese tier.  I would argue that it is a brilliant compliment to most cheese platters.  The rind however is not delicious and is one of the few that I cut off.  The taste is very similar to that of a Swiss Guyère.  Since Guyère doesn't have the same aging process (or regulations), it is usually less expensive than Comté which produces a firmer cheese due to their aging process.  A direct taste off is in order!
Comté is an aged cheese made in large rounds.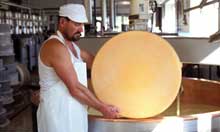 The average aging period is 6-12 months, but it is often aged up to 24 months or can be aged in as little as four months.  It can, and is, aged even longer–at a swishy restaurant, you may be lucky enough to find the very best Comté which is aged up to four years. It all comes down to a matter of price…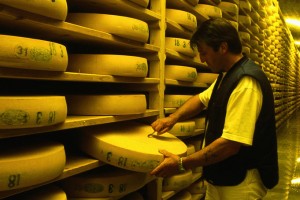 Comté is one of the oldest cheeses and production began in the 12th century.  Like its French cousins, champagne and Roquefort, Comté has strict production regulations which include limitations on who is entitle to produce the cheese, a quality control grading system that determines who is able to use the comté name, and many other rules regarding the transportation, treatment of the milk and what the cows can eat–to name only a few.
There are no industrial farms that produce comté, only small farms that use unpasteurized  milk by and follow the comté traditional method.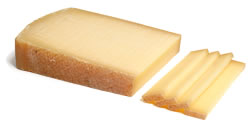 This is how you slice a comté.  Please note that there is no nose to be stolen in a wedge like the one pictured above.  Different cut, different story.  This is the cut that I typically find at Whole Foods and other purveyors of fine cheeses.