Living a truly blessed life, I am on a chartered yacht for a birthday party in South Beach. I see this girl and people tell me we look so much alike we could be sisters.  Clearly I must meet her and talk to her. Immediately.
Introductions are made to Ms Cara Garbarino–A Chicago based photographer, owner of The Atelier.  Cara's images have graced Town and Country, Forbes and all the top wedding publications. We click instantly.  I mention the Champagne Year and my commitment to 12 new things and her actual sister, the lovely Genessa, declares that I must have Cara take boudoir photographs of me.  Boudoir photography is Cara's focus and expertise.  Cara is able to turn you into an icon. Her work is in such high demand, there are waiting lists to get a session.
The Germ catches wind of this conversation and immediately wants to have a calendar.  He's serious.  I think this is going to be the best birthday gift ever.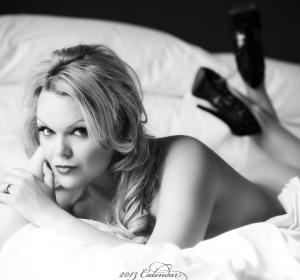 I was scheduled to be in Chicago a few weeks later.  I changed my flight plans and take Cara up on her gracious offer to squeeze me in.  Enter stage right glam squad.  First, a makeup artist starts working magic.  Next, a hair stylist takes over and turns me into Brigitte Bardot meets playboy bunny.  Champagne provides me with the liquid courage I need to strip right down.  It is the champagne year!
I take an ok picture and usually feel comfortable in front of a camera.  That said, I am always wearing clothes and smiling. In the Atelier studio, I flip between wearing absolutely nothing to wearing sexy lingerie.  It feels like an editorial shoot with no toothy grins.  Definitely out of my comfort zone.  More champagne please. Yes, please give me a serious pour–fill it right to the top…
The shoot was nothing short of amazing.  I had an absolute blast and the final product is like nothing I have ever seen.  These pics are of me?  I can't believe it.  The Germ LOVES his birthday calendar. I loved being Brigitte Bardot.
Here is a sample of some of the images from the calendar…
Cara is an incredibly gifted artist, outstanding artistic director and nothing short of fabulous.
Anyone going to Chicago or looking for any excuse beyond the magnificent mile to visit the Windy City needs to put a photo shoot with the Atelier on their to-do list.  It must be booked.  You can't afford not to do it and you certainly won't regret it. Cara's approach, the super fun, out of the box experience and most importantly–the final product will leave you beyond satisfied. And a little breathless.
I am now officially a calendar girl.  Please call me Ms April.
With my highest of recommendations…
1500 West Augusta Boulevard  Chicago, IL 60642, United States
(773) 661-9011